Beck Building Response:
A message from our Director, William Ah Shay:
Our aim at Beck Building is to continue to provide for our clients and support local subcontractors and suppliers where we can, while still observing COVID19 protocols as defined by the Government.
Our priority, as always, is the safety and well-being of our employees and sub-contractors who help us provide a quality construction product for our clients.
We are conscious that these are extraordinary times requiring adaptations in our ways of working and doing business.
We regularly assess our systems and processes to account for these changes and stay in close "virtual" contact with our clients as we continue to build for them.
We are committed to best practice and working through this situation, and remain in regular contact with advisors including our partner, the Queensland Master Builders.
Some of our projects are nearing completion, others are progressing well, and others are just about to start. Our construction team, including our sub-contractors, is hard at work delivering a quality product for our clients. Our design team is still busy, and we are continuing to negotiate with clients to provide personalised building solutions for their construction dreams and requirements.
We have invested in the best technology to conduct secure on-line ways of staying in touch with you and working with you if you are home-based and considering future construction projects.
We are all in this together and wish you all good health and well-being during these times.
William Ah Shay
---
Click on the image below to be taken to the processes Beck Building is implementing for preventing the spread of COVID19 on-site: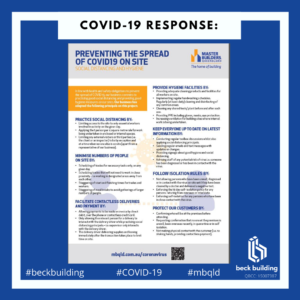 ---
Government Funding:
Government assistance ($25,000) for new housing projects, is available for existing homeowners wanting to renovate their homes, or new homeowners wanting to build (not just first homeowners). This is the HomeBuilder Programme.
First homeowners are also eligible for State funding bringing their funding grant up to a total of $40,000. Eligibility conditions apply.
Information, including links to a PDFHomeBuilder fact sheet and Frequently Asked Questions can be found on this website: https://treasury.gov.au/coronavirus/homebuilder
This funding grant may apply to our new Display Home in Atherton (in partnership with Atherton Golf View Estate) and new constructions contracted before the 31st of December 2020.
QBCC: 15007387