We use innovation, we build on experience, and we work in partnership with you to construct your building project.
We are Cairns-based and also build in regional, rural and remote areas across the Far North and Western Queensland. We specialise
in providing construction solutions for residential and commercial building projects: industrial and agricultural.
Our Open Building Licence qualifies us to work on all classes of buildings.
Our in-house designer offers innovative building ideas that will help you personalise your building project to suit your needs, including your budget, your lifestyle requirements and your land/block.
Over 30 years of construction experience in our team means Beck Building can provide building solutions for all projects. We use proven systems and clear communication processes to provide the best construction solutions, suppliers and products for each project.
We work in close partnership with our clients and suppliers, aiming to deliver outcomes that satisfy all stakeholders in the project.
innovation • experience • partnership
Beck Building operates three divisions: Commercial, Agricultural Infrastructure & Residential
---
Our motto: "innovation, experience & partnership", drives us to give you a customised home explicitly personalised for you and your lifestyle. It fits.
Corinne Jarvis, our Design Consultant, meets with you and makes sure your house design matches your lifestyle, is suited to your block, and is appropriate for your budget. She uses innovative ideas, product recommendations and styles that are sustainable and the right fit for you. Corinne sits with you, listens to you and guides you through the process of personalising your home.
Callum Hepburn, our Building Supervisor, makes sure we deliver the project in a timely, cost-effective and efficient manner. As a result, you get a home building process that is clear from the beginning and a home that is right for you and your family. Our processes and products build value for you.
Most importantly — we partner with you because your home needs to be what you want it to be. Bring your ideas, or use some of our designs as a starting point for discussions.
The first step is your decision to build. Congratulations! Now, let us help you with the process and let's make it happen for you.
See our Temptations Design Collection or our Showcase Collection, and our House and Land options for homes that can be personalised specifically for you.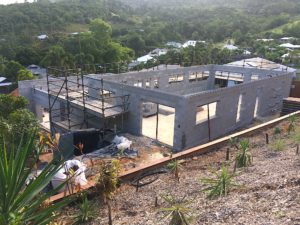 Completed Project: Red Peak Estate 2021. Photography: Imagination Photography & Video . House is for sale.
---
Our motto: "innovation, experience & partnership" drives us to give you a customised & tailored building project to suit your commercial purposes. It works.
William Ah Shay, our Commercial Building Specialist and company nominee, offers a personal, commercial building service. We design, construct, manage and build large and small commercial constructions.
You receive attention to detail and cost-effective construction processes tailored to suit a multitude of commercial purposes. William incorporates vision and a strategic understanding of the building industry in his design, management and project skills. As a result, you get a commercial project explicitly designed to suit your business requirements.
William's Open Building Licence means we can work on all classes of buildings and offer a wide range of services to meet your needs.
Beck Building's past and present commercial client base include:
Agricultural companies.

the Queensland Government (BAS),

Church groups,

private sector commercial organisations,

local councils,

tourist organisations,

service industry clients,

education organisations and other groups.
See our Current and Past Projects page for more examples of our commercial work.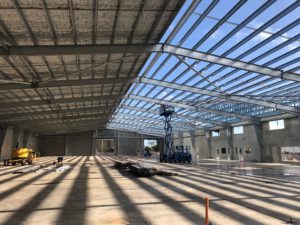 ---
Beck Building Agricultural Infrastructure:
Our motto, "innovation, experience & partnership" drives us to give you a customised & tailored agricultural infrastructure solution that works in your environment, with your goals. It suits.
William Ah Shay, our Building Specialist and principal builder oversees a process to provide construction solutions from design approval (DA) to completion. We provide: agricultural accommodation, sheds, pre-cast concrete, trough and other agricultural structures that suit a multitude of functions, sizes and weatherproofing requirements.
You receive attention to detail and cost-effective design and construction solutions tailored to suit your agricultural products and processes. We partner with companies who share the same values to make sure that the product you receive is the product you require.
Agricultural accommodation, sheds, concrete infrastructure and other structural requirements can be designed, customised and delivered in areas across Far North Queensland and North Western Queensland.
We provide infrastructure in rural and remote regions for:
Agricultural companies

the Queensland Government,

Local Government

Other organisations & companies.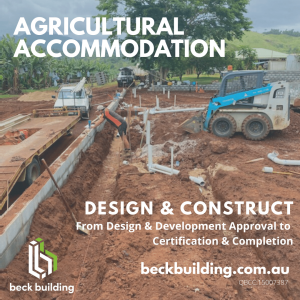 See our partner companies and examples of the agricultural infrastructure products we can provide on our Agricultural Infrastructure page.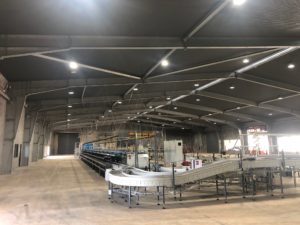 ---
innovation • experience • partnership
QBCC: 15007387